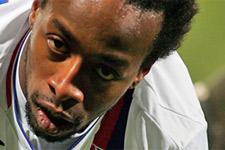 Sidney Govou reflects on OL's defeat in Marseille and discusses the trip to Troyes. He doesn't deny that OL is having a rough patch, but the OL attacker remains confident: "Sooner or later, it will pass".
Are you frustrated by the defeat?
No, we're not frustrated, but it is tough. We've never had a spell like this in all the time I've been here. We're not frustrated but it sure is starting to weigh on our minds. We've only secured 2 points in a month. That's really not good. We have to set that right by taking all 3 points in Troyes.

When you lose a match right at the death, do you start to think you've been cursed?
Cursed or not, if we didn't win at Marseille, it was because we didn't do everything possible to win. There wasn't much in it in the end, but you have to accept it. It's pretty weird to lose your lead and the match in 5 minutes but I can't really explain how the game turned around like that. We played a solid match. We controlled play for the best part of the match but we just missed 5 minutes at the end.

Did you find the setting particularly difficult?
No. The setting wasn't out of the ordinary. In Marseille, we know there are lots of fans and a huge atmosphere and we know they'll be very motivated. After a while, you get used to it. There was a lot at stake in this match for both sides, it was a physical match, but we expect that these days. Personally, I'm not surprised any more when our opponents get stuck in.

Do you think OL needs to raise its level of aggression to match its opponents?
I don't think we suffer from a lack of aggression; we're there in all the contests. We have a team that's relatively tough and very athletic. It's more on the mental side of things that sometimes we don't stack up. Sometimes we get irritated or frustrated on the field and that's contagious. It's on that front that we need to get back on target.

Do you get the impression that you're suffering from a lack of success in January?
We haven't had too much success lately. I prefer to talk in terms of success than luck. When we had it, we said we would go out looking for it. When you don't have it, it's that you can't quite finish things off. It's irritating because we made a huge effort but were just missing that one little thing that made the difference in the first six months. Our current problems make us realise that we had a really exceptional start to the season.

Do you tell yourselves you could lose everything?
No. We can still make it to the quarter-finals of the Champions League, we're into the final of the Coupe de la Ligue and we're still on top of the league table. When we look at all that, we can't really see ourselves losing everything. There are 3 competitions left. We want to go all the way in all of them but we're really glad January is over – we had some very delicate moments. We have to get past our troubles, and we have the means to do so.

The team seems to have a lot of trouble scoring these days. What do you put that down to?
We take a lot of shots, but not all of them are real chances. It's like that. As for our recent matches, we weren't terrible in terms of our level of play. We played our customary brand of football, we moved the ball around well. Maybe we make things harder for ourselves than we should. At the same time, we were up against opponents who were playing at their very best.

How do explain what you're feeling now that you didn't feel in the first 6 months of the season?
When you don't score, when you draw a match, things look that much worse. There are also refereeing decisions that lead us to get irritated more easily. It's a vicious circle but we're still confident and we'll continue to work hard. Sooner or later, it will pass.

Do you think the recent spate of injuries to hit the squad is the principal cause of your current dip in form?
Before the injuries, we had a certain rhythm and we rotated regularly. Having quite a few injuries changes the course of things somewhat. But I don't think the injuries are the principal cause. We still have a good squad with some great players. Whether there are injuries or not, you have to get on with the job.

Are you worried about the match in Troyes?
Not at all. Since the start of the season, people have thought that we won matches easily but on the pitch, we haven't played a single easy match. We've had to give our all every time for 95 minutes. We go to Troyes knowing it will be tough, but we also know that we can win.

Does the final of the Coupe de la Ligue take on more importance after your elimination in the last 16 of he Coupe de France?
No. Now that we're in the final, we want to win and believe we will win.

You just received the call-up for the French national team. We imagine you're happy with this news?
(Laughs) I'm very happy to go there but it's not the be-all and end-all. There are still many things to achieve in Lyon. The season can still be magnificent. This call-up is just an accomplishment.