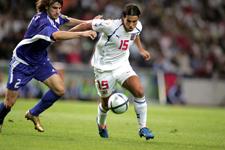 Several OL players have been called up to play for their countries in the upcoming round of international friendly matches
On February 7 in Brussels, Belgium will host the Czech Republic. Milan Baros has been selected to play in this match.

On February 7, the Sweden squad, including Kim Källström, will travel to Cairo to take on Egypt.

Patrick Müller has also been capped, by the selection panel of the "Nati", the Swiss national team, for the clash between Germany and Switzerland in Dusseldorf, also on February 7.

These call-ups follow that of Fred, who has been selected to play in the Brazil-Portugal match at Emirates Stadium in London. Also, featuring in the centre of the Portuguese midfield will be another OL player, Tiago.