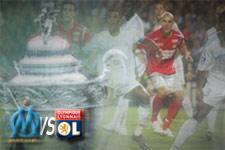 It's a huge clash, a grudge match, a means of reassurance, and a real ambition for both teams. This last 16 clash between "Olympians" has everyone charged up at the end of January. The Vélodrome will be at boiling point…
Without being overly attached to the past, could the present obscure the recent and distant past? How can one forget the spanking that OL dished out to OM at the start of the season in Marseille (a 4-1 loss) on October 22 last year? How can one not think about OL's elimination last season, at Gerland, facing OM in the quarter-finals? The oldest still remember that OM beat OL in the final of the Coupe in 1976, the last time the quintuple champions reached that stage of the competition. There's also a strong will on both sides to win a trophy that has eluded their cabinets for ages (89 for OM and 73 for OL). At the Stade Vélodrome, OL hasn't lost since season 97-98 (5 draws and 4 wins), but has never won a Coupe de France match there. There have also been the occasional off-field disputes between directors…

But beyond these factors, isn't the most important thing a victory to erase on one side a loss to Le Mans and on the other to gain some reassurance after a decrepit month of January in terms of results and quality of play? OL has lost its brilliance in the league. Even though the arithmetical consequences of this lean patch are negligible, it's still very annoying. In a double-or-nothing match, OL has the chance to restore its reputation while staying on course for an historic competition. Toulalan, suspended… Wiltord, Benzema and Diarra injured… certain other players are short of breath or lack effectiveness…

And so? Gérard Houllier has at his disposal a squad solid enough to face this challenge, notably at the back and up front. He just has to find a strategy for the midfield, for reasons we are all aware of. A reminder? Alongside the win at Lorient (3 goals from 9 shots), the match against Marseille remains, this season, the most effective attacking game for Juninho and co (4 goals from 14 attempts).

OM has some considerable attacking talent since the returns of Cissé and Ribéry. At the back, Julien Rodriguez brings his solid experience in the centre of defence. Add the lively Nasri, the power of Niang, the technique of Pagis and the enormous, but sometimes renegade physical impact of the pairing of Cana-M'Bami, and it's clear this team is tough to get around. They have only lost at home twice in 14 matches (9 wins and 3 draws). A few hours before the big game, with the arrival of the future owner (Mr. Kachkar), still in the running for a Champions League spot, 2 points behind second place, OM's future looks bright.

In these last days of January, with the transfer window closed, these 2 clubs are on the trail of big rewards come springtime. One of them will be left on the wayside of this magical competition. OM would only have European competition next season to play for… OL would lose a fantastic opportunity to go even further in its quest for trophies that every supporter hopes reaps multiple rewards. And what better birthday present for Juninho, who turns 32, and who has already scored 4 goals at the Stade Vélodrome, than qualification for the next round?