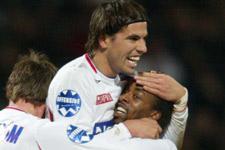 "A very important game, a hard-fought match…" declared Gérard Houllier the night before the match against Nice. A night for Milan Baros to make his debut…
It was a night in which Milan Baros made his first start for OL, 6 days after arriving on French soil. In 6 days, the young Milan has had a lot to do. He made the acquaintance of his team-mates, of the "Tola Vologe" training centre, of Lyon's cuisine, of the Gones… of Gerland, last Wednesday… Just enough to learn a few words of the language of Molière and to start a match at the apex of the OL attack.
A first start, a first goal and a first yellow card for the Czech international in the space of 70 minutes. A shot saved (13'), an angled shot (22') following a double one-two with Kim Källström.
It took just 41 minutes of play to see Milan Baros score his first goal for his new club. The work of Sidney Govou on the right set up the new OL striker who was well placed at the edge of the 6-yard box. With the opportunity on a platter, Milan slapped the ball home for OL's equaliser and his 52nd goal in 187 English and French league matches. In England, the 25-yo striker scored his last goal on January 7 in the last 64 of the FA Cup. In the league? He last scored on December 12 2006, against Sheffield United, for his first Premier League goal since round 17.

Operating all over the pitch but also in depth, Milan put in a gargantuan effort for his team tonight. His breaks offered valuable options to his team-mates and his first touch had him on the front foot and a step ahead more often than not.
He came very close to securing victory for the Gones but his chip shot and his effort from near the penalty spot unfortunately found a Hugo Lloris in fine form (59' and 67').
To a rapturous applause form the fans at Gerland, he made way for Fred after a very convincing 70 minutes on the field.