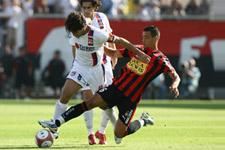 1 point in 3 matches, 2 of which were played at home: definitely not normal service for OL. But during this stumble, the lead in front of second place hasn't diminished. It's more than ever the time to get back on track: hosting the Aiglons of Nice, who are definitely out of sorts.
A cold snap for the quintuple champions of France. Since the trip to Lens, have been chasing their 17th league win. Monaco, Toulouse and Bordeaux have all managed to escape defeat at OL hands. On the contrary, they have stuck a finger in the eye of this superb competitive beast. Why? A large part of the reason is that the opposition tacticians have decrypted the OL game; the opposition is always hyper-motivated. The pitches recently haven't favoured the speed and the crisp technique of Juninho and his team-mates. OL has been deprived of some of the important elements of its success and has had trouble really getting going during January, knowing that they will need to be on top of their game in a couple of weeks. And that's not to mention the absence of effectiveness in attack and defence that is all too apparent in the statistics.

Despite these factors, OL didn't especially deserve to lose against Toulouse and Bordeaux. But the ball doesn't always fall sweetly, and everyone has their turn… OL needs to get going again to ward off self-doubt and the consequent erosion of its league lead. "This match against Nice has taken on enormous importance…" declared Gérard Houllier during his press conference.

Nice arrives on Saturday evening amid a storm of troubles. An ever more worrying lack of points: 16 in 21 matches, with 6 points from their last 10 games (6 draws); 3 points taken on the road in 11 fixtures; their most recent victory dating back to round 11 (Nice 2-1 OM). Trouble scoring: 15 goals scored (12 matches kept scoreless). Trouble with direction: President Maurice Cohen resigned after the loss to Toulouse. Manager trouble: to come, surely, as Antonetti's days seem numbered.

Will these troubles force the Aiglons further towards relegation and L2 or will they give them superb motivation to win? One light in the darkness for Nice is their defensive solidity. With 23 goals conceded, Nice are 7th in terms of defence. They have kept 5 clean sheets conceded just one goal 8 times. Only OL (4goals) and Bordeaux (3 goals) have been particularly prolific against them.

In the end, this match between the leader and the second from bottom is a match-up of two teams in search of points and form for diametrically opposite reasons. Do they have the means reach their goals? On one side, there is the sense of duty of Abardonado, Laslandes, Varrault, Echouafni, Balmont helped by Lloris, Koné, Ederson, and Vahirua… while Rool has incurred a 5-match suspension. On the other side, a group of internationals on the comeback trail who will be rejoined by Grégory Coupet and whose massive potential hasn't disappeared despite poor recent form. It's a fairly sure bet that the Niçois, just like Monaco, Toulouse and Bordeaux, won't take the field with a flowers in their gun. One points will be a very welcome one for OGCN. It's up to Juninho and co to quickly rediscover the keys to victory. Juni has been directly involved in 10 of the last 11 OL goals in the league, going back to the 1-0 win against Sedan: 2 goals and 9 assists (7 after free kicks). So let's hope the Brazilian maestro can pull out a great performance on Saturday night. OL needs him and, as he himself said: "We have to beat Nice to stop self-doubt from setting in".