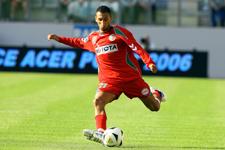 The 2 OL players on loan, Rémy Riou and Nadir Belhadj, were both starters last night in round 21 of L1.
"Riou has already staked a serious claim to be Lorient's number one keeper". It's in these glowing (and recurring) terms that sports daily L'Equipe described the performance of the keeper loaned by OL to Lorient, giving him a score of 6.5 out of 10. He pulled off two amazing saves (23', 45') and was instrumental in his side's 1-0 victory over Lens.

In Sochaux, Sedan managed to secure a precious 1-1 draw. Playing at left back, Nadir Belhadj was one of Sedan's best.