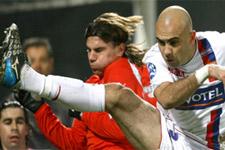 Cris talks about OL's home defeat to Bordeaux. Though he regrets OL's poor start to the match, he hasn't forgotten their excellent second half. There is no doubt for the Brazilian defender: Gérard Houllier's men deserved a penalty.
What's your first reaction after the loss to Bordeaux?
The match was hard-fought and very difficult. We didn't play well in the opening minutes. We were 2-0 down after only 27 minutes. That hurt us but we came back in the second half looking to score and we did so. But it was tougher then because they shut the game down. We created many chances but couldn't hit the target. In the second half we played well and worked the ball around well. It's a real shame we couldn't find an equaliser.

Do you think OL should have been given a penalty in the 93rd minute?
I controlled the ball, and as I moved off, the keeper made contact. If Milan Baros had scored that's okay, but as he didn't, the ref should have awarded a penalty. But it's behind us now. We will think hard on this loss before playing our next match. The best response will be on the pitch against Nice on Saturday, which will be another home game. We have to win and take the three league points in order to move forward.

Do you get the feeling that OL is hurting right now?
Each of the players has to fix it in their heads that the championship is far from over. It's tough because every match we play is like a final. We are in 4 competitions at the moment and it's tiring. This was our first home loss for the season, and now we have to be careful and show a lot more concentration in the coming matches.