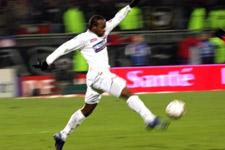 Instigator of Lyon's qualification for the last 16 of the Coupe de France against Laon on Saturday, Sidney Govou discusses OM, OL's next Coupe de France opponent, as well as the Girondins de Bordeaux, who OL host tonight in the last game of round 21 of L1.
OL has just recruited Milan Baros. Have you met him yet?
Yes, the coach introduced him to us on Monday. I knew him anyway because I played against him at youth level, which is a bad memory as we lost to the Czech republic in the final of the European Youth Championships. He is a generous player who makes enormous efforts all day for the whole team. So I think he will fit in really well with the squad.

Did OL really need another element like this?
We have quite a few injuries at the moment, and we're still in 4 competitions. That means a lot of matches and you never know what can happen. To have one more reinforcement just in case is very important.

John Carew is doing the reverse trip…
Everyone got along well with John. Lately, it was really complicated for him, he was playing less in his second season. Maybe it's better for him to go. For a while, you could see he had lost motivation.

So now it's back to the league for two tough matches…
Playing two games at home isn't an easy thing. We will be very focussed. In the league we are coming off a draw at home and a loss to Toulouse, that's 1 point from a possible 6. To keep our lead in the league and achieve our goals as quickly as possible, we absolutely have to win at home.

Both matches?
Yes, both matches. We play every game to win even when winning at home isn't so easy. We have no choice any more, our last game, in Toulouse, left a bad impression, so we have play a huge match and win. We really need the 3 points to kick-start the second half of our season.

You mention needing to protect your lead in the league. You don't seem calm despite your 14-point lead at the top of the table. b>
We are never calm. At OL, we have many times caught with and surpassed teams who looked to have the league sewn up in January. I'm in a position to know that the lead we have today doesn't mean anything. A few months can go very quickly. We do have a big lead, but we need to maintain it.

Which team has made the biggest impression on you since the start of the season?
I think Paris is good. Even though their ranking is low at the moment, they have played really well against us. I'm happy for Paul Le Guen after his tough time in Glasgow. I hope for his sake he can get PSG through these tough times.

How do you explain OL's difficulty in playing at home?
At home, teams come and defend, playing on the counter attack. As for us, we try to play the ball calmly and don't rush ourselves, but we don't always create a lot of chances. Sometimes we're caught on the break when we let the pressure slip.

Does the final of the Coupe de la Ligue against Bordeaux change your approach to Wednesday's league match against Bordeaux?
Not at all. The final is another match, another context. We will see when the time comes, but we have a lot to do between now and then.

How do you rate this Bordeaux side?
I saw the second-last match they played. They were good in attack and tough in defence. They started the league season well before dipping in form a bit. The Champions League takes a lot of energy. But I think they are back on track and that their conceding 3 goals against Niort in the Coupe de France doesn't really mean very much.

[IMG41691#R]What are your priorities this season?
First the league, then the Champions League, and then the Cups. The league remains the top priority because you need a top-three finish to go into the Champions League each year. As for the Cups, if we can win them, we won't hesitate.

What do you think of the draw pairing OL with OM in the last 16 of the Coupe de France?
We can expect a pretty hostile welcome, but we won't try to win the match before we take the field. We know it will be tough, but not impossible.

Is OL out for revenge? (In season 2005-2006, OM came and beat OL in the quarter-final of the Coupe de France at Gerland)
Last year, everything was different. This year, we really want to go all the way. If we have to get past OM, we will go there and do it. I don't really like talking about revenge. Yo9u don't need that to motivate you for a match against Marseille at the Stade Vélodrome. We don't disregard smaller teams, but sometimes we're not there 100%in our heads, and this can complicate matches.

You scored in Saturday against Laon…
It's always great to score. Especially after only scoring one goal in the first half of the season. But I often say, "Even if I don't score, I stay calm". When I take the pitch, I don't focus on having to score, I focus on playing a good match.