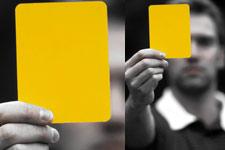 Stéphane Lannoy, international referee from the North of France, will conduct the game on Wednesday night.
Lannoy has twice presided over Bordeaux and OL. Bordeaux in Sochaux when the Girondins went down 2-1; and at the Parc des Princes when they won 2-0 over PSG, making this match the third time for Bordeaux on the road. He officiated with OL in Nantes and at Le Mans for OL victories of 3-1 and 1-0 respectively. This will be the first time he presides over an OL home game this season.

He will be running his 11th match in L1 this season. He has handed out 40 yellow cards and 2 reds. He has yellow carded Mavuba, Wendel, Ramé, Perea, Jurietti, Faubert and Henrique from Bordeaux; and Berthod, Källström, Toulalan and Tiago from OL.