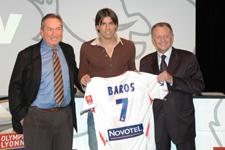 "Milan Baros was a transfer priority for the club." It was with these words that club president Jean-Michel Aulas presented Milan Baros, OL's brand-new recruit, to the press.
"He has signed a contract for three and a half years. At the same time, John Carew will make the same journey in reverse. Milan is a prestigious player who we have been after for a year and a half already. He is very happy to come to OL. He is one of the most impressive European players we have seen in the last few years.
Gérard Houllier and the OL centre-forward then responded to questions from the press.
Gérard Houllier :
We met with Milan Baros a year and a half ago in Prague, and at the time he wanted to stay in England, feeling he had some maturing to do. Since then he has changed at now that we need to reinforce our front line, he is happy to join. So I'm very happy to see him come to OL. I signed him at Liverpool, so I know that he is a very good player. He is a grafter and works very hard. He is already very welcome among his future team-mates.
How will you use him?
He has come to play in attack. He is an out-and-out striker.
What's the technical profile of Milan Baros ?
He is a powerful player who can get behind defences and provoke them. He is a different player from Fred. His game is more in incision and penetration. We don't have anyone like this at the moment.
Is there a hierarchy in attack?
He has to find his place in the squad. In my mind, everyone starts off even. Fred and Milan will either play together or the better player will take the pitch, but with so many games on our schedule, you will probably see Milan play quite soon.
Does Milan's arrival put a question mark over that of Frédéric Piquionne?
I'm like Saint Thomas, I only believe what I see. It's true that our need isn't so great now that I've had some good news about Karim Benzema, so I'm thinking about it. But that doesn't mean yes or no.
Is the recruitment of a defensive midfielder still on the cards?
We are still chasing Jérémy Clément but we are in competition with another big club.
---
Milan Baros:
You could have signed for OL a year and a half ago, but you declined. What tipped the scales this time around?
At the time, I didn't want to leave England. I knew OL was a big club but I wanted to stay in the Premier League. When the chance came up again to come to OL, it seemed like the right time to work with Gérard Houllier again. He was my manager at Liverpool.
Do you regret refusing the first OL offer?
I weighed it up thoroughly at the time, and I've never thought it was a bad decision. Things were different, but now I am very happy to come here. I will try to do for OL what I do best.
Does it make it tough coming to a club halfway through the season?
It's never easy but I have already worked with Gérard Houllier, so I know what he will expect. Many of the payers speak English, which should make things easier. But I will learn French as quickly as I can.
Have you had any advice from other Czech players playing in France?
Yes, mainly Vladimir Smicer. He said Gerland has a fantastic atmosphere and that OL is a great club.
Do you feel ready physically to play in all 4 competitions?
Yes. I used to play 2 matches a week with Liverpool and I know perfectly how to prepare for a schedule as busy as OL's.
Does coming to OL give you a chance to re-launch your career?
I did it a bit tough after I left Liverpool. So, yes, it's a great chance to re-launch my career.
How do you see OL's chances in the Champions League?
Victory is definitely a possibility. You never know what can happen in the Champions League. I won it after being 3-0 down. OL was unlucky last year in the quarter-final. With some luck OL could well go through to the final.
See the press conference on video on OLWEB PREMIUM !