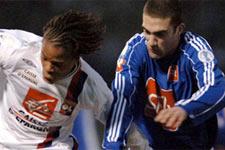 OL's 29th match of the season met with an expected victory and qualification for the last 32 of the Coupe de France …
Juninho scored his 5th goal in the competition (his second free kick after the one at Viry). He has joined Priou and Felix and is only one goal away from Sidney Govou, OL highest goal scorer currently playing.

Juninho scored his 32nd free kick for OL; his 5th of the season. That takes his OL tally to 74 goals of which 41 have come from set pieces. 41 set pieces for 35 wins, 2 draws and 2 losses. The 2 losses (Lille and Rennes) came in games where he scored a penalty. He has twice scored two free kicks in a game (Auxerre and Toulouse). He has never lost a match that he has scored a free kick in: 28 wins and two draws (Sochaux and Ajaccio in the league. Juninho has had taken 57 free kicks this season, as well as 1 penalty from 84 shots in 22 matches! 10 shots of that 84 were inside the area.

Vercoutre played his first Coupe de France game with OL. He has played at least one match in every one of the 5 competitions this season (TrophÈe des Champions, Coupe de la Ligue, Coupe de France, the league and the Champions League).

Juninho received another yellow card. Toulalan, Cris and Juninho are now in danger of a 1-match suspension if they receive a third yellow. Juninho is the most-sanctioned OL player, with 6 yellows and a red. He has already missed 3 games through suspension.

20th goal scored in the last 15 minutes, and the 11th one to be a winner.

The young Alexandre Bouchard was on the bench at Bayonne. He is the 5th OL keeper to make the team sheet: Coupet, Vercoutre, Riou, Hartock and Bouchard.

In the second half, OL played for 20 minutes with 3 attackers: Rémy, Ben Arfa and Benzema, aged 20, 19 and 19 respectively! If one takes into account Jérémy Berthod, that makes 4 graduates of the OL youth program in the team!

Match stats :

20 OL shots : 6 on target, 12 off target and 2 blocked. Källström 3, Juninho 3, Benzema 3, Ben Arfa 3, Fred 2, Rémy 2, Réveillère 1, Cacapa 1, Squillaci 1, Diarra 1. 1 goal from a free kick and one from a head following a corner.
Bayonne had 6 shots: 2 on target, 3 off target and 1 blocked. 1 goal from outside the area..

Vercoutre made 7 significant saves.

14 free kicks for OL and 16 for Bayonne.

14 players used.