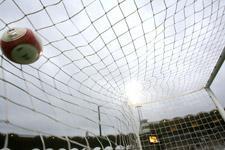 It wasn't easy for OL to do the job against a team locked in the struggle to keep its place in CFA2. The charm of the Coupe de France often offers up uncertainty and suspense and OL has to experience its fair share before qualifying for the round of 16.
In a match of extremes, Rémy Vercoutre guarded the OL goals for the 11th time this season. And after a first 15 minutes of no danger, the OL keeper made his first save at the feet of Vincent Koffmann, who showed just too much of the ball. This first alert demonstrated the intentions of the Coupe de France minnows, who weren't at all over-awed by the five-time French champions. To everyone's surprise, the first shot on goal was taken by the team from CFA2, with Koffmann making the most of a scuffed save and stunningly opening the scoring with the flat of his foot. (19'; 1-0).

OL reacted strongly, with Ben Arfa, Fred and Squillaci not far off target, taking turns to try to get OL back on track…
The versatility of François Clerc allowed Gérard Houllier to play him in midfield in the absence of Juninho and Tiago, who stayed in Lyon along with Cris and Abidal, who were also spared. On a corner from the left-footed Källström, charged with taking the set pieces in the absence of the specialist, François Clerc, shot on the turn to score his first goal as a professional and to return the teams to an even scoreline (27'; 1-1).

On the hour mark, Sidney Govou, OL's top scorer in the Coupe de France ahead of Juninho, replaced Loïc Rémy on the right side of attack. He was joined by Florent Malouda, who François Clerc, several minutes later. OL attacked relentlessly and Sidney Govou, in a competition that suits him well, put OL ahead after a one-two with Fred. His cool finish wrong-footed Benard and put the champions in the lead (69'; 1-2).

Soon after, Anthony Réveillère cleared off the line (71'); Fred missed a one-on-one, a chance to kill the game off (74') before redeeming himself in stunning fashion courtesy of a scissor-kick that slammed home a Malouda cross from the edge of the 6-yard box (86'; 1-3).
So Olympique Lyonnais has another appointment in its quest for "The Old Lady", for the round of 16, after berating Laon 3-1 in front of 9,200 supporters at the Auguste Delaune stadium in Reims.