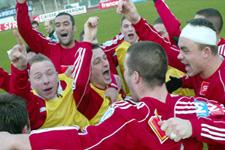 US Laon will play its 8th Coupe de France match this season. The club, of which Bernard Girault is the president, has never beaten a team from a higher division...
Buire Hirson in the 3rd round, Chevrières in the 5th, Chany in the 6th, Chesnay in the 7th, Thionville in the 8th and Palaiseau in the last 64... that's how the CFA 2 team made it thus far. It went to penalties against Thionville and Chany.

In the league, group A of CFA2m the Reds are currently placed 13 out of 16, in danger of relegation. 4 wins, 2 draws and 8 losses; 28 points; 14 goals scored and 22 conceded. Their last result was a 2-0 defeat at the hands of Arras. The reserve team from Valenciennes tops their pool.

L'Union Sportive Laonnaise was founded in 1947; it was the champion d'Honneur Picardie in 1986, 87 and 2006. The club was promoted this season to CFA2, where it hopes to survive the drop pitted against teams such as the reserves from Créteil, Valenciennes, Reims.

The Marcel Lebeau de Laon stadium boasts 1,000 seats, so the club from the Aisne has decided to receive OL in theAuguste Delaune stadium in Reims (9,200 seats); the stadium is undergoing refurbishments and will eventually seat 22,000.