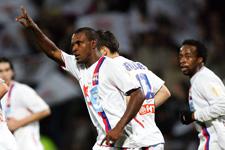 On the end of a pass from his buddy and accomplice Malouda, Eric Abidal sent the black and white ball of the Coupe de la Ligue into Pelé's net and at the same time sent OL... to the Stade de France.
After 22 minutes of play, "Abi" abandoned Bangoura for a few seconds to lend a hand to the OL attack. Getting past Thomas on the very edge of being off-side, his acceleration afforded him enough time to focus on his assault on the brilliant Le Mans keeper.
This speed, power and take-off, in addition to his technical skill, have made him first choice for left back in the French national team, "Les Bleus". The World Cup finalist, known as "the parrot" for his love of wisecracks and unsurpassed chatting capabilities, is also known and renowned for his physical performances in both games and training. His laps of OL's training facility Tola Vologe, done with unnerving ease, have given him the best endurance among the OL players. After 22 matches played so far this season, Romaric had his turn to to see first-hand the acceleration after eric stopped the ball neatly n the edge if his own area and the turned and ran off with it (50')... or shield it effectively for Vercoutre to pick it up (51').
Earlier, in 2 short metres, the man from Martinique created space behind the opposition defence. A short glance informed his final decision in front of goal. Fred was marked and Pelé's near post wasn't totally closed down. Neither one nor the other, Abidal, defender by trade, unleashed a rocket from his left foot, leaving Pelé powerless to do anything but pick the ball out of the net.

The Lyon-born scored his second goal for OL, again in the Coupe de la Ligue, 2 years after sparking the OL comeback against Lille, from a Hatem Ben Arfa corner. Maybe this explains his little smile on the way back onto the pitch after half time.