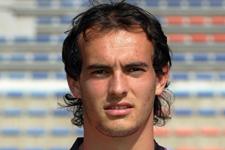 2 players on loan from OL played in L1 this weekend. Rémy Riou was outstanding in goal for Lorient.
It's a first for Rémy Riou: the young keeper loaned by OL this week made it into the Team of the Week for round 20 in sports daily L'Equipe.
Given a score of 7.5, he played a large part in the 1-1 draw between Lorient and Bordeaux at the Stade Chaban-Delmas.
It was his 6th match in goal for the "Merlus".

There was also a great performance from Nadir Belhadj. Playing on the left of midfield, the player loaned by OL pushed hard and fast but his Sedan side couldn't find a winner against Nancy (2-2). This draw doesn't help the men from the Ardennes, who remain in last spot on the league table.