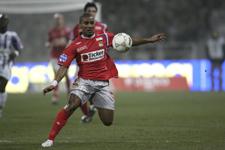 Florent Malouda reflects on OL's defeat in Toulouse and discusses the semi-final of the Coupe de la Ligue against Le Mans. Conscious of a few "small adjustments to be made", the man from Guyana hopes to harvest what was sown at the beginning of the season.
Florent, what went wrong in Toulouse?
We are doing our self-assessment at the moment. WE really have our noses the grindstone after the loss in Toulouse but we're not particularly worried. There are some small adjustment to be made. Wednesday will be another match altogether and we will have to be much tougher than we were in Toulouse. We really want to prove in front of our fans that the loss was a one-off incident. It's important to bounce back. We sowed the seeds at the start of the season and now it's time to harvest. All our victories from the first half of the season were achieved through sacrifice and total dedication. We have to find that attitude again, and lift our game in every area. We have a huge effort to make. We want to go to the Stade de France, to impress and repay our fans by winning trophies for them. We are lucky enough to have a home semi-final, and that's an opportunity not to be missed. It will be great to have our fans behind us to help realise this major goal for the club.

You have done a lot of work since the season resumed. Could this explain your recent poor form?
No. Physically, we weren't inferior to either Toulouse or Bayonne. We can't bring everything into question. On the contrary, our top physical condition is one of OL's biggest assets. We will show on Wednesday that physically, we can make an impact. We played on rugby fields, and we have learned our lessons.

How do you approach this meeting with Le Mans in the Coupe de la Ligue?
We are a bit frustrated at the moment because we hate losing. I hope we get back to winning ways pronto and this Coupe de la Ligue semi-final is a great opportunity to bounce back after the loss in Toulouse. Wednesday's game comes at just the right time to reset our clocks. Today, what's most important is our semi-final preparation, and it should get the whole club moving. We expect a tough match, like the one in Toulouse, with a lot of aggression and dedication. We will prove that have these qualities while at the same time developing our game. We have to get the counters ticking over again.

What do you think of this Le Mans team?
Le Mans is a tough team who we just managed to beat in the league but on Wednesday, it will be a different story. What counts is the result. They want to come here to win, just like us, because a spot in the final at the Stade de France is up for grabs.

You have a busy schedule in January. Are you in the right frame of mind to play a cup semi-final?
Yes. We have to be, because what's important is what's at stake. Playing in different competitions is part of match preparation. We have prepared ourselves for any eventuality and not be caught off guard by what happens.

In Paris, Paul Le Guen is replacing Guy Lacombe. You know them both well. What do you think?
First I have to pay my respects to Guy Lacombe, even though it didn't go well for him at PSG. Also, I wish Paul Le Guen all the best as he is arriving amid difficult circumstances, and I hope he can set things right there. He is a talented man. When we play against him, just like whenever we play against a former team-mate, we will love to show him how far we have come.

There is talk of new players coming to the club. How do you react to these rumours?
I have nothing to say about them. The squad is unchanged at the moment but any new recruits who can help us achieve our goals will be welcome. Some big contracts are coming up for renewal. There is a lot of talk because we have quite a few injuries but we saw in the first half of the season that, despite the setbacks suffered by the squad, we can keep our progress on track. What really matters is the results.