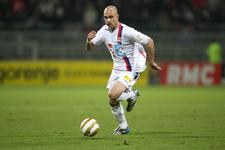 Reactions after the match between Toulouse and OL.
Elie Baup: It was a great night, especially as we have taken 4 points from OL this season… As I said, you can beat OL 1 time out of 100. And we did it. We had a very humble game plan, and tonight we proved how tight-knit we are.

Patrice Bergues: Sure, we didn't win tonight, but victories come when you do first things first. We created chances but we didn't contest the ball enough, we weren't effective. We didn't play the kind of game we are capable of playing.

Cris: the match was tough as the pitch was in bad shape. Toulouse played a superb match, they didn't leave us any space. As for us, we didn't play well, but that's football. Now we have to focus on Wednesday, it's already time for the Coupe de la Ligue again.

Sidney Govou: It's a shame because we wanted to strike a big blow. We created many chances for ourselves but our attention was lacking. And they made the most of it. On Wednesday, we will have to get back on target, and win the match to take us to the Stade de France.

Rémy Vercoutre: The league has started over again. Many said OL didn't even need to play in order to win…It's up to us to get back to winning ways as soon as possible.

Jean-Michel Aulas: It's a big disappointment: partly because we were on a fantastic run and also because it's always good to start off with a win. I remember last year we had a fantastic 4-0 win at Strasbourg. So. It's a disappointment against a fine Toulouse team who managed to get the job done and to pressure OL in terms of physical condition and of desire, a pressure we couldn't counteract. We are currently experiencing a syndrome, from which we need to extricate ourselves, where the team is feeling the weight of all the praise being heaped upon it, all the predictions that we will finish the season way ahead. We have to get down to business in every match, especially on the road, and especially in a packed stadium like tonight, when TFC dictated the terms of the match.
We had many chances and should have been ahead right from the start. The pitch was a handicap for such as technical side as OL. You can always debate refereeing decisions on the road but I think that even though it was a good match against a good opposition, we only have ourselves to blame for not being sharp enough, for not pressuring Toulouse enough. When you don't win the one-on-one contests, it's very hard to win football games. We really have to get back on track, as on Wednesday we have cup game a bit like the game tonight, but a game we must win in order to go to Paris in a couple of weeks.
As far as Nilmar is concerned, we will know on Monday or Tuesday. FIFA has taken a long time to make its ruling. I think the decision will be to put Corinthians on official notice to settle their account with us or to cancel the transfer, which would bring Nilmar back to Lyon. We are reviewing the situation because Gérard (Houllier) wants at least one new striker, and, after departures and returns from injury, possibly a couple of new players by the end of the transfer window.

See all the reactions on video on OLWEB PREMIUM.