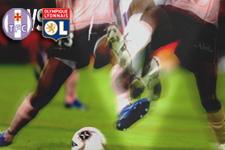 4 times in the last 5 seasons, OL has resumed the season away from home, and it's the same story this season. OL's host, TFC, had a poor finish to 2006, with 3 losses in a row, and hasn't beaten OL since returning to the top flight…
A very slightly complicated warm-up in the Coupe de France to get over the holidays, champagne, foie gras and a tough return have thrown OL back into competition, back into 19 matches by May 26. With 50 points at Christmas, 15 points ahead of second place, and continuing its break-neck pace, the quintuple French champions is on track to win its sixth title in a row in the first half of April. In other words, 75 points to secure. At the beginning of January, one thing is sure: OL has a hectic schedule and could be very tough for a long time. So there can be no slouching on the way to securing the championship.

In the Pink City of Toulouse, TFC have been experiencing a downturn in fortunes. The "Manchots" of d'Elie Baup are slowly sliding down the table, having collected a paltry 6 points from their last 8 games, when they had 18 points from the 8 before that… and the lure of a European place. Sure, Arribagé and his team-mates have a game in hand, against PSG. But it's foolhardy to assume you will walk away from the Parc des Princes with all 3 points, or even 1 for that matter. The Violets aren't in the red yet; they are simply on the cusp of two different fates. One eye on the bottom, one eye on the top. And on Sunday, they will have a close-up look at the summit of French football. "We can only watch Lyon with binoculars; it is on top of the mountain and is always hungry. OL will win 99 out of every 100 games against TFC… It's enough for us to win just one. Maybe on Saturday we can cause an upset…"

Elie Baup, as discusses on the club's website, rarely won against OL when managing Bordeaux or St-Etienne. But he has the right to hope…Mathieu, Congré, Aubey will be missing; the new striker, Pavel Fort, isn't ready. This team from Haute-Garonne, tough and well organised at Gerland in August, will have to roll up its sleeves. They know OL is slightly tougher on the road than at home (9 wins and one loss; 23 goals scored and 6 conceded). "We have to bounce back after a poor December. We will contest this match against OL with passion and joy." Dominique Arribagé, in France Football's Friday edition, hopes that TFC can rediscover its form from the beginning of the season.

OL doesn't pretend it can win all the competitions it is still in, but plays to win every match. In Toulouse, since TFC returned to L1, the scenario has turned in favour of OL: 3 wins in as many matches; 4 goals scored and 0 conceded. On Saturday, Coupet, Diarra, Carew and Benzema will be missing, but that won't bother Gérard Houllier, who is spoilt for choice. Against Bayonne, he gave game time to a range of players, resting Toulalan, Cris, Abidal, Govou and Malouda… so some big names will be returning to the team. "We are in the same position as we were before our trip to Bordeaux and after our draw with Toulouse at Gerland. We are coming off a draw with Monaco, and it's important to get the year going well…" Gérard Houllier wants to add 3 points to the 50 he has already.

With 7 games in 22 days, OL won't have time to day dream. With the exception of Karim Benzema, once again on the sidelines, this time for 6 to 8 weeks, according to Gérard Houllier. At last sighting, he was serious but in very good humour, which augurs well for OL's resumption of league duties. OL is set to pick a bouquet… of Violets!