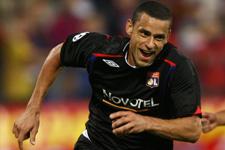 Fred gives us his first impressions after coming back from injury in the last 64 Coupe de France clash in Bayonne. The Brazilian striker seems impatient at the thought of slowly picking up the pieces.
What are your first impressions after your return against Bayonne?
What makes me happiest is that I'm fit again, that I didn't feel any pain. I felt good. Now I can do what I love, what I love most in the world: these feelings, the thrills, the tension, the drive and to start scoring again. My goal from now is to get back into my game, to find my rhythm so I can return to my best form as quickly as possible.

How far away are you from your best form?
I've only played one match, and was out for a month and a half. It's hard to give a percentage. I've only been training for two weeks. I think that on 2 or 3 matches I will be at 100%. It's the most serious injury I've had, before that I had only ever been out for one week at a time.

How did you get through the two and a half months out of the game?
It's the toughest time I have had to get through. My family was with me, thank God. It was important that the club allowed me to go to Brazil for my recuperation. Seeing OL play and not being able to help was really tough. I think I could have come back 2 games before the break but I didn't want to push it.

Before your injury, you scored 7 goals in 13 matches. Do you think you had found a good rhythm?
Yes. Absolutely; especially when you see that the top scorer in L1 has scored 8 goals. My top priority is the title of Champion of France but to end up the top scorer in the league would be great. I so badly want to score a goal that I'm wondering how to commemorate it. I really want to score that first goal to get myself going, to find my rhythm. It's a question of time. I hope it will be as quickly as possible.

How did you deal with the transfer rumours surrounding Frédéric Piquionne?
For me, that's normal. OL has lots of injured attackers, so it makes sense that the club went looking for a striker. Because OL has such high ambitions, it has to have very talented players in its squad. There will always be great players at OL and they will always be well received. Gérard Houllier is very good at instilling confidence in his players. He gets the best out of all his players.

Benzema has a long-term injury. Would you like OL to recruit another centre-forward?
It has nothing to do with me. I really like Benzema. I hope he recovers as quickly as possible because he is a player with a very bright future.