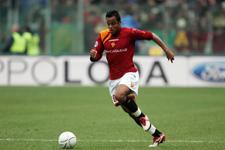 Like OL, Roma entered the national cup this week, against Parma. And like OL, Roma won 2-1.
Faced with a reticent Parma team, Francesco Totti and co largely dominated the game for 80 minutes until conceding 3 minutes from the end, a goal that puts them in a delicate position for the return leg on January 17.
Pressuring high up the pitch, the Romans, who played without a recognised striker but 4 very attacking midfielders, weren't pushed for most of the game thanks to superior technique but then sat back too far after Totti went off with an injured finger.

Mancini imposed himself on the game and opened the scoring in the 19th minute cleverly dummying a shot from the edge of the area before chipping the keeper. In the second half, after a charge down the left, the Brazilian sent a perfect cut-back cross for his captain Francesco Totti, who was left with a simple tap-in.

In the semi-final, the winner of this tie should, all things going to form, meet AC Milan, which plays Serie B club Arrezzo.

The Roma team: Curci, Panucci, Ferrari (Chivu 68'), Mexes, Perrotta, Totti (Rosi 79'), Tonetto, Pizarro, Taddeï (Cassetti 85'), Mancini, De Rossi.