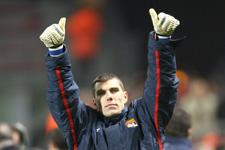 Rémy Vercoutre should on Saturday play his 9th match of the season in the OL goals. He discusses his motivation and the "very good" Toulouse team where his former team-mate Bryan Bergougnoux plies his trade.
On Saturday, you will once again be in goal for OL. At the start of the season, could you have hoped you would play this many games?
Hoped? No. I don't hope that he (Grégory Coupet) gets injured. I try to do my best when I'm called on. I'm about to play my 9th game of the season, a record for me. I have played in 5 different competitions. To have a certain continuity in your performances is good for your self-confidence. At the moment, I'm playing a few games in a row. Physically, I prepare in the same way whether I am on the field or on the bench because I like to keep a routine. I put the same drive into training every day. Mentally, it's different. I throw myself into games gladly, hoping the team's good form continues. We are on the right track, having been prepared by Robert (Duverne). Provided we get the results.

Do you feel any pressure in particular?
sure we are under pressure. We play for Lyon. We have to get results, and sometimes we are expected to do it in grand style. So yes, there is some pressure when you're called up to play.

How did you react when you saw the banner in the north stand that read "More than a substitute, another great keeper: Bravo Rémy"?
That more than warmed my heart. I wasn't expecting it at all. It was Greg (Coupet) who told me to turn around to see it. It was terrific. It makes the hard work in training and in games worthwhile.

You will play Toulouse on Sunday. What do you think of this team?
It's one of the teams that has given us the most trouble at home. We came away with a draw last time, their keeper slipped up. We all have it at the back of our minds. We are intent on going there and playing well in order to start the second half of the season with a bang. We started the calendar year with a victory at Bayonne, and hope the results continue in this manner.

Does this Toulouse team surprise you?
They're very good, better than many expected them to be at the start of the season. They have a good squad, and based on what I know of Bryan Bergougnoux, it won't be easy. I have great memories of Bryan on and off the pitch, everyone on the team likes him. But our hearts are set on playing a good match against him on Sunday.

[IMG39593#R]What will be the more important match? This trip to Toulouse or the Coupe de la Ligue semi-final against Le Mans on Wednesday?
Every match is important. We owe it to ourselves to stay in winning ways, to always stay at the top. So no one match is more important than any other. We want to win everything, to get maximum points in the league and to go as far as we can in all the cups. So we won't be taking this game at Toulouse lightly.