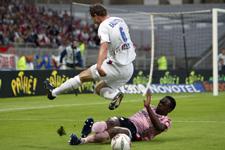 OL and TFC? Here are some recent memories from clashes between the two teams…
Among the OL squad, 3 players made their debuts against TFC. Eric Abidal with Monaco September 16 2000; Claudio Cacapa, on February 17 2001 and Kim Källström on January 10 2004 with Rennes.

Since TFC's promotion back to L1, OL has played the Haute-Garonne club 8 times (7 in the league and once in the Coupe de France). 9 different players have scored 12 goals. Malouda leads with 3 goals, ahead of Juninho 2, Dhorasoo 1, Govou 1, Essien 1, Wiltord 1, D. Diarra 1, Carew 1 and Bergougnoux 1. Juninho scored a double in Revault with two free kicks 2004-2005. Essien scored an indirect free kick at Gerland in the same season. Djila Diarra, scored that penalty that won OL qualification in the Coupe de France (2-1) at Gerland.

OL has scored at Gerland in every match with TFC since its return to the elite of French football. The only goal scored by the Violets was the work of Dalmat in the Coupe de France.

Rémi Vercoutre will contest the first L1 match of his career at Gerland versus TFC, although he has already played against them while at Strasbourg… at the Meinau, going down 4-1. The 3 scorers in that match (Dalmat, Suarez x 2, Moreira) have since left the club.