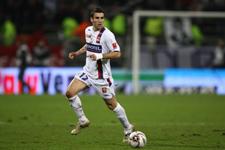 After a win against Bayonne the last 64 of the Coupe de France, Anthony Réveillère discusses this Saturday's match against Toulouse. Despite a league lead of 15 points, OL will travel to Toulouse with victory firmly in its sights.
Anthony, the league resumes for OL this week against Toulouse.
Yes. We started the year well with a win in the Coupe de France, and it gave us confidence. We want to keep the ball rolling and keep winning. We want to take off again, but this trip to Toulouse is not a foregone conclusion. They have had a tough season, and will be wanting to start the year off with a bang, especially against OL, because it's always a huge match.

Toulouse is one of the few teams to have beaten you at home.
That will motivate us. They caught us at Gerland then put together some good results before collapsing. We will try to avenge ourselves there by taking all the points on offer. Home or away, we play every game to take the 3 points, and it will be that way on Saturday. We will go there to play well and win.

You have worked very hard physically since you got back from holidays. Do you need some time to get back to match fitness?
For me, the game at Bayonne was a good chance to get back in the saddle and into the competition. We worked hard physically and we attacked the ball. Everyone will be ready for Toulouse.

You have a 15-point lead in the league. Doesn't this make Cup games more important than league games?
No, on the contrary, even if we lead the league, we can't sit back or use our get out of jail free cards. We play all our games hard and to the end, to win, because every match is important for OL. We have the squad to play in all the competitions. We take the matches one by one without thinking ahead to the Coupe de la Ligue semi-final against Le Mans.

There has been talk of a possible quadruple this season. Do you guys talk about it?
No. We know we are there in all 4 competitions. We want to go all the way in all of them but we know what cups are like, we know that many factors come into play. You just have to be 100% on the right day.