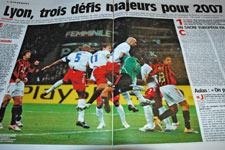 Twice-weekly magazine France Football today devoted 6 pages to OL and includes a long interview with Jean-Michel Aulas.
"In his perpetual quest for excellence and his desire to pull OL alongside the greatest clubs in Europe," the Lyon president discusses the "three biggest challenges in the club's history".

On the top level is the Champions League, "a competition in which his team has never been as fancied as this year", and for which Jean-Michel Aulas harbours real ambitions: "We will do everything to go all the way to the end, because I think we have a team that can eventually win it, (…)at the moment, our team isn't far from being the best on the continent." But he remains cautious: "We need to have objectives in the Champions League, but not an obsession with it."
When posed with the possibility of his club's effecting an historic quadruple this season, he is circumspect. "Between us, I don't think it can be done. Sooner or later, you have to make a choice."

OL's second challenge this year: floating on the stock exchange, a "must-do" for the OL to become "a realistic challenger to the biggest European clubs". On this point, Jean-Michel Aulas seems quite optimistic: "I imagine that the listing will happen before our return game on the Champions League against Roma (March 6, 2007)." Hoping to raise "around 100 millions in net funds" on the stock exchange, the OL president intends to use this financial boon to "invest in the youth academy and in the development of a range of activities that will ensure the ongoing prosperity of the club, (…) part of the funds raised will be usee to buy land, roughly 70 hectares, for the future construction of a new, larger stadium".

The construction of OL's next home is the third challenge for 2007, "a revolutionary project worth between 200 and 250 million euros". Jean-Michel Aulas hopes to see work begin "within 12 to 14 months, with games there from the beginning of the 2010-2011 season".

Enough challenges to ensure an exciting year in the Rhône and Saône.