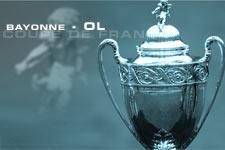 For its first match in the prestigious French knockout competition, OL pulled rank on FC Aviron Bayonnais.
The Coupe de France is always full of uncertainty, doubt, surprises, giant-killing runs… Rennes, Lorient and Troyes have already paid the price in the last 64 of the competition. OL has booked an appointment with the "Old Lady" (the Coupe de France) and will follow the trail that leads to the Presidential stand of the Stade de France on May 20 2007.

OL's 2007 began in the Basque country at a venue where a game of rugby will have been played not 24 hours before. Despite a mammoth effort by the council the night before, the five-time French champions found the pitch at the Jean-Dauger stadium in poor shape. "This will not be an excuse," said Joël Bats minutes before the match that OL took very seriously.

And to prove it, in the 10th minute, Loïc Remy, given his first start, on the right side of attack, victoriously met Juninho's corner. Bayonne's Emmanuel Degoul did his best to block Remy's header but it hit the back of the net to open the scoring. Previously, Juninho has been denied by Bouet and Bidegain (5', 9')
Put on the back foot, the "Blues" bolstered their courage and, faced with OL, Alain Pochat's men had to see their moves through and have a rock-solid mentality in order not to crumble. But OL stepped on the accelerator and the shots rained down. Fred shot just wide and also found himself off side (16', 39'). Källström saw both his efforts end safely in Bouet's gloves (35', 42'). Lestage's shot (34') and El Hassam's corner both failed to hit the target.

After the break, Hatem Ben Arfa caused further problems for the local defence. His dribbling, dummying and speed left his opponents for dead. Along with Benzema, the two youngsters set alight the second half marked primarily by Aviron's own youngster Bidegain, who smashed in a superb volley from 25 metres (61'). Karim Benzema replied almost immediately but saw Bouet push his header off the line with the tips of his fingers. OL's deliverance came from the feet of their number 8, with another free kick, from 25 metres. Juninho smashed the ball onto the inside of the post to give his side some breathing space (75'). Benzema, put through by Ben Arfa then by Juninho, twice failed to deal the knockout blow (80', 81'). From a pass by Tiago, subbed on moments earlier, Hatem Ben Arfa had no more luck than Benzema, seeing his lob fly out of play.

Against the brave Bayonnais, OL qualified for the last 32 of the Coupe de France and remains in contention in all competitions. 2007 has started well for OL.