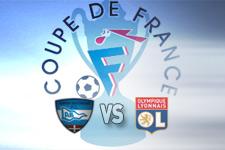 Founded in 1920, Aviron Bayonnais Football Club has effected a dazzling climb in the last decade. After two seasons in the Nationale, Bayonnais is already in Group C of the CFA… and they are topping the table after 16 rounds.
In 97-98, the club was in DHR Aquitaine. And in 4 seasons, from 2001-2002 to 2004-2005, it has gone from DH to the Nationale, winning promotion every season. They had a remarkable campaign in the Coupe de France in 2003-2004, eliminated in the round of 16 by Bordeaux after knocking out PSG in the previous round. Christian Sarramagna managed the team from July 2000 to half way through 2005-2006. The current manager is Alain Pochat, a former player at the club, who worked with the former manager in the role of physical trainer.

17th in the Nationale last season, Aviron has shown grit and determination. After 16 rounds so far this season, it tops the Group C table with 48 points (9 wins, 5 draws and 2 losses; 17 goals scored and 7 conceded). Rodez trails by 3 points, Albi by 4, Anglets by 5…

9 wins, 6 of which came at home: Les Herbiers (2-1), Bordeaux (3-0), Anglets (2-0), St-Georges-les-Ancines (2-0), Nantes (1-0), Brive (1-0). 3 on the road: in Luzenac (1-0), in Balma (1-0) and in Toulouse (3-2). 5 draws 2 of which were at home: Montluçon (0-0) and Orléans (1-1) and 3 of which were away from home: Le Mans (0- 0), at Albi (0-0) and at Moulins (0-0). 2 losses: one at home to Bordeaux Stade (1-0) and one at Rodez (2-0).

Laurent Sautier has scored 4 goals, Lancien 3, Lestage 2, Boucenna 1, Lalanne 1, Louit 1, Balde 1, Van Den Bruwaene 1, El Hajjam 1, Lalanne 1, own goal 1.

In the Coupe de France, Bayonnais has successively eliminated Colayrac (5th round) 3-0, Pau (Nat 6th round) 2-0, Blagnac (CFA2 7th round) 1-0 and Cournon (DH 8th round) 2-2 and 4-3 on penalties.

Sunday's match will take place at Jean Dauger stadium, home of the rugbymen, and not their usual venue, Stade Didier Deschamps.

The Bayonnais resume their league challenge on Saturday January 13 at Aurillac.