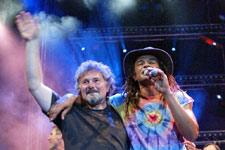 Mr "Jo" joins the 50-yo club on January 4.
Jöel Bats is 50 years old, the same number of times he was chosen for the French National team. He played 504 L1 matches . The goalkeeping coach played for 3 clubs in his career as a player (Sochaux, Auxerre and PSG) and has worked for 3 clubs as a coach (PSG, Châteauroux and OL). He has won every competition in France at least once as well as the Cup Winners Cup in 1996 (PSG) and the European Championships (France 1984).

The new quinquagenarian has been going grey for some time but his motivation is not flagging. A hangman with a soft heart, he nurtures his charges to the summit of their art. Joël always demands the right reaction and cracks down on bad attitudes, but he is never short on encouragement, deserved compliments, conspiratorial glances or tactical insights in his training sessions. He knows also how to push himself through pain to be at peak physical condition. To see him work hard at the start of the season says a lot about the motivation and commitment he has shown since his first season in football at Sochaux in the 70s, far, far away from his native Landes and the family that is so important to him.

Happy Birthday, Joël, and keep on winning trophies… whether you've won them before or not!