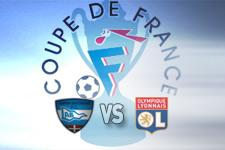 57th Coupe de France campaign for OL. Aviron Bayonne Football Club will be the 93rd different opponent for OL in this competition…
OL has played 202 matches in this competition since playing RC Vichy in 1951. 121 wins & 3 Cups (73, 67 and 64)… 3 lost finals (76, 71 and 63)… 2 lost semi finals (98 and 56)… 8 penalty shoot-outs (2 won and 6 lost).

23 times out of 56 participations, OL played its first match away from home.

14 times, OL has been eliminated in it's first game, once in the 8th round. OL has been eliminated 16 times from the last 64, the last time versus Libourne (CFA) in 2003. This elimination is also the last against a team of this level. But the previous loss to a lower-ranked team was in 2005 at Clermont (L2).

10 matches in support or to re-play for 7 qualifications and 1 elimination.

Govou is the current player who has scored the most goals for OL in the Coupe de France (6) ahead of Juninho (4), Benzema (2), Wiltord (2), Malouda (2), Ben Arfa (1), Cris (1), Muller (1) and Fred (1).

No OL player from the 2006-2007 squad has ever won the Coupe de France. Among the staf, only Jöel Bats has had the pleasure of winning it, (3 times in 3 finals) with PSG.