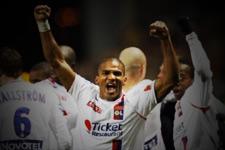 To rotate or not to rotate the squad? With 7 players sidelined (4 in recovery and 2 suspended), there's no choice but to rotate. But one must have faith in the OL manager… and, in the absence of recognised strikers, in Malouda.
A smiling-faced joker, his game is like his personality, fantastic and effective. Florent Malouda was chosen to lead the attack and at the same time, the team, handed the captain's arm band. OL's Mr Fix-it. His versatility has in the past led him to play at left back in the absence of Berthod and Abidal, and his strong performances brought Paul Le Guen to consider leaving him there. His effective clearances effectively kept him longer in that position while the recognised left backs recovered from injury. Months later, OL has four attackers sidelined, and once again, Malouda is the man of the moment.
From one side of the field to the other, the efforts and fighting spirit of the Guyanan combined spectacularly. And, as a good captain, Malouda was the first on the pitch of Gerland.
With a massive work rate, masterful dribbles and Brazilian-style moves, the French International has come back from Germany a new man…there is more power in his game, more precision and better finishing since his return from the World Cup final. The Guyanan has scored 10 goals before the halfway point of the season in all competitions, where as he finished recent seasons with 6 (2006), 8 (2005) and 4 goals (2004). 7 in the league, 2 in the Champions League, the man from Cayenne opened his Coupe de la Ligue account by rifling a left-foot shot past Bracigliano before putting Sidney Govou through for the winner, his first goal of the season.

Having played a tough game against Hilton et Coulibaly last Sunday at the Stade Bollaert, "Maloude" found himself flanked by two big defenders, Puygrenier and Diakhaté, in his second game playing in the preferred position of his good friend Drogba. And the resemblance didn't end there, Malouda hitting a superb half-volley that would have hit the target were it not for the vigilance of the Nancy 'keeper (36'). He also held the ball up well with his back to the Nancy defence and his surging runs as well as displaying a strong aerial game and striker-like composureon the ball.

A chameleon who "works hard and always pushed his team forward", said Patrice Bergues after seeing Malouda have 58 touches in 90 minutes. Guyana produced a magical son whom Lyon has adopted and taken to its heart.