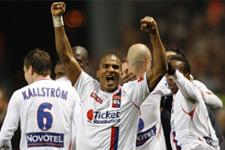 OL claimed a sumptuous victory 4-0 (Juninho (2), Malouda and Cris) at the home ground of its nearest rival Lens, over whom Gérard Houllier's men now hold a 17-point lead.
At the end of round 18, and having beaten its nearest rival RC Lens 4-0, OL can proudly claim it has beaten each one of its top eight rivals in the league. Also, one has to look to 10th place on the table, to Rennes, to find a team that has not submitted to the French champions.
Thanks to this victory at Bollaert, there is now a 17-point gulf between OL and its opponent from last night… a gulf that OL just keeps making wider, match after match. With the authority of champions, Lyon took down the men from Lens in the once-impregnable fortress of Bollaert, the first time this has happened since the visit of Nancy… on January 11, 2006.

At the kick-off, the game seemed to be tighter than the 14-point gap between the teams would have suggested. Injuries to his forwards forced Gérard Houllier to get creative, going without a centre-forward and using Clerc in an unaccustomed attacking midfield spot on the right, with four defensive midfielders to sure up the centre of the park. To make things more awkward, after an opening 15 minutes devoid of any chances except for Keita's free kick, snapped up by Coupet (5'), Anthony Réveillère went off injured and was replaced by Sidney Govou.
The Puy en Velay native had barely come on when Juninho slammed home a free kick from long range, his 4th such goal of the season and his 7th of any kind (22').

Stunned, Lens came close to breaking apart when Toto Squillaci almost scored with a shoulder from a corner by OL's number 8 (25'). OL confirmed their prowess at set pieces when, generously accorded a free kick by referee Laurent Duhamel after François Clerc slipped, ,Juninho took the opportunity to centre the ball for Florent Malouda to stroke in (33'). With his 9th goal of the season, the Guyanan sent Charles Itandje to pick the ball out of his net for the second time in 33 minutes, the same number of times the 'keeper has had to do so at home for the whole season to date!

On the return from the break, the five-time French champions were back at it… again fro ma free kick. Juninho's effort was followed by a left-footed shot on the turn from Malouda. Itandje had no chance of getting to the ball as it went in off Cris for the third OL goal (50').

A cut above, OL rolled on in front of a Lens team incapable of creating the slightest chances. But the hosts' suffering wasn't over fir the night. Twice Juninho looked to press OL's advantage. His first shot, from the edge of the area, was off target (56'). After Govou's perfect cut-back cross, Juninho's second shot hit the target (62'). Only Demont allowed Francis Gillot's men to finish with an almost blank offensive record (78', 90'). (78e et 90e).

Grégory Bettiol was able to calmly take a Ligue 1 pitch for the first time in his young career. For some time, the result has been considered to hold no suspense at all. Not satisfied with widening its lead at the top to 17 points, the French champion also made spectators of the men from Lens, who had been undefeated in 9 matches. After giving such a masterful team performance, OL seem more than ever to be in a class of their own.

Find video highlights from midnight on OLWEB PREMIUM.