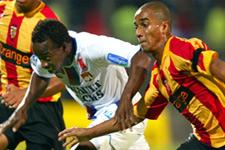 In the North, OL will confront its nearest rival… 14 points behind. For the five-time French champion, it's a chance to reinforce its dominance in Ligue 1. For the men from Lens, a chance for a glorious upset as well as the consolidation of second place on the table.
What a great match to have just a few days from the winter break. Second hosts first, two teams playing in Europe come springtime. One has the best attack in the league (OL); the other the tightest home defence (2 goals, none since Niang scored for Marseille in the 63'… making 387 minutes without conceding). OL leads the championship; Lens are far behind, undefeated in 9 games. Their last defeat? At Nancy, 2-1. The last few OL-Lens matches have been quite tight, since 2002-2003, very suspenseful and without a lot of goal action.

Everyone knows where OL's strengths lie, but the qualities of the men from Lens are not ignored either. Physical (Coulibaly…), powerful (Thomert, Cousin…), technical (Jussié, Carrière, Hilton, Keita…), effective (Aruna…), fast (Demont…), touch (Itandje), aggression (Kovacevic…). In short, a team well-suited to a top spot in Ligue 1, and even more so when Serbian central defender Milan Bisevac returns at the beginning of January. Also, the famous Lens fans of the Stade Bollaert can bring any game to life. Racing are doing well making the most of their evident stability. "We have nothing to lose. Against OL, you have be on alert until the end. We hope to get a little something out of the game. In any case, we really want to play well', said Lens player Nicolas Gillet in France Football magazine.

While the men from Lens travelled to the Netherlands midweek for a taxing match that saw them qualify for the next round of the UEFA Cup, OL had a well-earned breather, leisurely resuming training on Wednesday morning. Wiltord and Carew are injured; Fred and Benzema are just coming back. Gérard Houllier doesn't have too many options for centre-forward, so Sidney Govou will probably find himself in the middle up front, a chance to finally score this season… Hatem Ben Arfa could be given a league start for the first time since round 2 at Toulouse. As for Alou Diarra, former Lens player, his joy at returning to the North would be complete with a starting spot, although the battle for midfield spots is tough. The Swiss Patrick Müller, would love to celebrate his 30th birthday in the big game, but is faced with tough internal competition as well.

For the record, the only time OL has played the second-placed team, it wasn't much of a contest. OL beat Marseille 4-1 at the Stade Vélodrome. Even though that day, no-one would have picked such a big score line, things will almost certainly be different against Lens, who seem much more solid than the men from down south. That being said, it would be very surprising if Juninho and his men, in their last game before the end of 2006 and a well-earned break, let the three points slip. It's going to be a real rumble in the North.