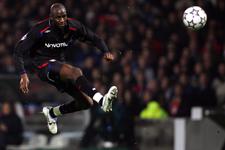 Alou Diarra discusses the draw for the round of 16 of the Champions League, which takes place tomorrow in Nyon. He declares his preference for FC Barcelona and its "mythical stadium". He also talks about the meeting this Sunday against his former team-mates at Lens.
Alou, just quick word on the draw for the round of 16 of the Champions League. Do you have a preference?
No, no preference. We have a lot of self-belief and know we can play well against anyone. We will play these two matches to the utmost.

Wouldn't you like to avoid Barcelona or Inter Milan?
No. At this stage of the competition, there are no weak teams. Whether it's Barça, Inter or another team, there will be 2 tough matches. It's just up to us to be ready to respond.

Opposition aside, is there a particular stadium you would like to play in?
Sure. The Nou Camp is a beautiful stadium, one of many. It's an impressive stadium, so why not? To play in a mythical stadium like that, for any player, is a big event not to be missed.

On Sunday, you will face your old team Racing Club de Lens. How do you feel about it?
I'm looking forward to seeing some old friends, my former team-mates, as stadium I like a lot. I hope the result goes our way, because we're expecting a tough match. Lens is a tough team at home. I know, I played there. At Bollaert, it's tough to move them around. With the exception of a stumble against Parma, they are effectively undefeated at home. Against us they will be "ultra motivated" and it will be a match of the highest level between the top two teams in the country.

Do you get a special feeling when you return to Bollaert or do you remain detached?
No, it'll be emotional. I'm very fond of Bollaert and they have great fans. For a former player of that club, these things are unforgettable.

Are you surprised to see you old team in second place?
Not at all. Last year, at the winter break, we were in second place, so I'm not surprised. I know the quality in the team, and this hasn't changed. They have great players and their ranking reflects their quality. I'm happy for them.

What's the secret of their recent success?
Consistency. They have known each other for 2 or 3 years now and they have players in every part of the pitch who can make the difference. The squad has depth, strength and technique and plays excellent football.

Have you spoken to any of your old team-mates lately?
Sure. I'm still in touch with some of my old team-mates. They are waiting for us, and are in a strong phase, just like we are. It's up to us to break their good run.

Would you be happy to leave Bollaert with a draw?
We will do everything to win the three points. We will go there to get a result, but 0-0 after 90 minutes would be just fine.