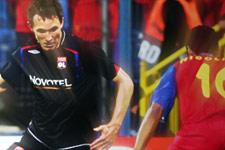 Each appearing on different European stages at the beginning of 2007, the two teams won't be constricted by calculations for this match. Bring on the game…
Frankly there wasn't much for Bucarest to write home about after hosting OL, such was the Lyonnais' mastery of the game, which they won by a resounding 3 goals! Since September 26 have confirmed the usual autumnal trend: the French club is once again in the Round of 16 of the Champions League and the Romanian club will once again contest the UEFA Cup. This Group E result was always predictable; Lyon and Real fighting for first spot while Dynamo Kiev and Steaua Bucarest fought it out for third.

As in 2004-2005 and 2005-2006, Juninho and his team-mates will play a « relaxed game ». Sure, it won't be a walkover; a defeat of even a draw would create problems for the team. There are still points and money for the taking; there is the sought-after top spot in the group to safeguard; there is the desire to mark out the club's French territory. Let's not forget that OL is undefeated in the group phase of the Champions League since the loss to Manchester United on November 23, 2004… 12 consecutive matches. Let's not forget either that OL will need to take care physically and mentally, knowing that the four matches after the winter break will be very tough.

Still missing Fred and Benzema, OL has only scored 17 goals in 12 games without the Brazilian and 29 in his 11 appearances. Gérard Houllier will be similarly affected by the absence through suspension of Malouda. Several players, notably Claudio Cacapa and Hatem Ben Arfa, want more game time and starting spots. Cacapa hasn't played since August 21 against Bordeaux, making just 4 appearances this season. As for the magnificent left-footer, he last started at Toulouse on August 12. He has only reappeared [IMG41605#R] for 16 minutes at Sedan on November 18. It's definitely time for these two players to prove their desire to play. On the youth level, Gérard Houllier could pick Rémy, or Bettiol, as he did last season with Beynié against Rosenborg. Who will take breather? Juninho, Cris and Abidal, as they are not on the team sheet. Or maybe Squillaci, Wiltord or Toulalan.

Steaua, after its stunning victory in the Ukraine (4-1), rightly took third spot in Group E, albeit the worst of the third-placed teams. At home, they are trailing Dinamo in the title race. This club, European champions in '86, no longer has the talents of its brilliant past despite the bankroll of its president George Becali. Keep an eye on French striker Théréau, who has 8 league goals to his name this season. For the rest, expect a victory from OL in its 64th Champions League (including 4 from the qualifiers). And if it happens to be a great game with lost of goals… that would be perfect.