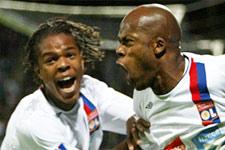 A little after his first appearance with the "Firsts", Loïc Rémy tells us all about it: his debut, the intensity of Ligue 1 and his goals… the young striker reveals just how happy he is to be playing top flight football…
How have you seen your start to the season?
I've just been going along at my own pace in the professional squad. I got in with the rest of the squad after the training camp at Châteauroux. From then I haven't quit it. I hope it stays that way.

What is your best memory so far?
The match against PSG, when I laid on the assist for Sylvain Wiltord. Also my first start against Sedan. They are things that will stay with me forever…

Have you had a chance to review your performances on tape?
I've seen the videos. That lets me see the mistakes I made, but also the good things I've done too.

What are the main differences between playing with the reserves and playing in Ligue 1?
The thing I noticed the most was the intensity. At Sedan, in the second half, I started to fade because the rhythm in Ligue 1 is so fast. I hope I can get used to it soon. Playing in Ligue 1 is a dream come true, a dream that other youngsters from the youth teams will have their chance to live as well. It's fantastic, but you mustn't forget that it won't necessarily last. You can go quickly from the top to the bottom and that's why you have to keep working hard every day.

Did any players take you under their wing?
Yes, some have given me plenty of advice, like Rémy Vercoutre and Sidney Govou. Sidney tells me a lot of things that I shouldn't do. I really like those two guys. Sidney is the player I've always admired. I identify a bit with his style of play. We're quite similar players. We've also made quite similar starts to our careers.

What's your next goal?
Play as much as possible and, above all, score my first goal. At present I'm really working hard in front of goal so that I'm ready when a chance comes along.

Do you look at the upcoming games for the pros or for the reserves these days?
Yeah, actually I do look first at the first team, but I haven't forgotten about the reserves. I always watch their results on OLTV because they are my generation of players. Against Le Mans, I'll probably be playing against quite a few of the players I faced last season in the Gambardella Cup, most notably Samassa.

A little word on this Le Mans team...
They are a physical side they play very good football, very strong and who never give an inch. We'll have to be very careful.