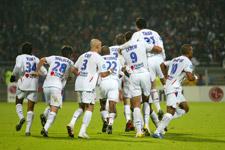 Check out who said what after Lyon's win over Valenciennes...
Steve Savidan (Valenciennes): It was a really tough game for us. The ball possession must have been nearly 99% for Lyon, wasn't it? They really are a great team, but nobody is invincible. We had them worried for ten minutes there, even a little bit more just before we scored.
I still think we woke them up when we scored. If we hadn't have scored that goal, would we have still lost all the same, or would we be here now with one point for a draw?
Defend? That was our tactic for tonight against Olympique Lyonnais. You mustn't forget that we were up against a very big side. Now we just have to keep on working and move on to our next match, against Marseille…

Rémi Garde: We were expecting that type of opposition, but I don't think we really expected them to be quite so negative. For a long time they just sat back to defend their goal and didn't even try and attack us. It's only justice that we won in the end because our players used plenty of energy and thought in building the play.
That shows that you can't win by only defending.
The lead in the standings has the media talking a lot, but the players are keeping their feet firmly on the ground, they found the strength to come from behind, remained focused and motivated enough to win it, while always showing plenty of respect for their opponents.