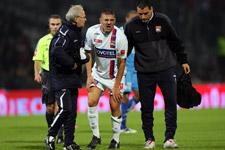 Check out Doctor Amprino's first diagnosis of the injuries to Karim Benzema and Sidney Govou...
"Two left hamstrings! Karim Benzema has torn his left hamstring and, having seen the state of him, I'd say he'll be out for six to eight weeks, and just like Fred, we're optimistic while still remaining prudent.
"As for Sidney Govou, who came off in the 55th minute, it looks like a strain which means two to three weeks on the sidelines.
"Both players will undergo scans tomorrow morning."