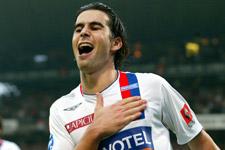 Refusing to duck any questions, Tiago reveals all. He looks at his record after 15 months in France, talks about his former club Chelsea as well as OL's next opponents Valenciennes as well as his disappointment at not playing regularly in the Portugal national team…
You have just begun your second season with Olympique Lyonnais. How would you rate your first 15 months at Lyon?
I'm really happy, happy to be in this club. In two years, I had two fantastic seasons. The second has only just begun but I can assure I'm delighted to be here.

Do you regret leaving Chelsea for OL?
No, not for one minute. I'm happy here and my aim was to play more and win the league. My wishes came true.

What are the main differences between Chelsea and Lyon?
I think the only difference is in the working conditions. The youth centre and the training facilities at Chelsea are just huge. But apart from that, the two clubs are fighting for the same things: win titles, win matches. In terms of that, there's no difference.

Would you like to play Chelsea in the final of the Champions League?
Of course I'd love to play in a Chelsea-Lyon. That would be great for me. I also think we'd win that match.

You've been scoring some precious goals in this early season...
I'm no goalscorer. But I'm happy to help the team out by scoring goals.

How have you seen the start to the season?
We've made a great start, despite the defeat to Rennes. Now our aim is to get back to winning matches again.

How did you analyse the Rennes loss?
We proved to the media, contrary to what we read everywhere that we were beatable. Perhaps we've come down to earth after that defeat. We lost that game, but we don't want that to happen again. Believe us: we don't want to lose again. We want to start another run like the one we just had.

[IMG40398#R]What do you think of Valenciennes?
I twill be a tough game. We will try and defend well in order to score. It's true that recently we haven't scored much. Valenciennes will come here like a lot of teams and try to defend and hit on the counter. We will have to be very watchful.

Can we have a little word on your place in the Portuguese national team?
As you probably seen, I come back unhappy from my trips with the national team because I'm in the squad but I don't start. I don't necessarily play so I often feel a little low when I return to Lyon. But my aim is to win a starting place and I think I'll get my chance to do that.

Where would you put the French league compared to other European leagues?
I'm convinced that the French league is of a very high standard. We always here about the Spanish, the Italian or the English leagues, but the French league is really tough. There are lots of good players. While I was at Chelsea I didn't think it was as good as it actually is but since arriving, my opinion has changed.