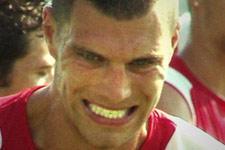 Rémy Vercoutre discusses this weekend's derby match where he'll be between the posts for the Olympians. He talks about his motivation, but also his apprehensions at replacing Grégory Coupet, as well as his Saint-Etienne counterpart Jérémy Janot and Les Verts' dynamic attacking duo...
Rémy, finally it is you that will be goalkeeping against Saint-Etienne…
Yes, it's come a bit out of nowhere. I just came to training as usual and they told me I'd be playing and straight away I'm in front of all the journalists... it's pretty funny for now. It might be a little less entertaining at 17:00 this Saturday. But football is a team sport, so I won't be going there on my own. My teammates have been taking the mickey out of me, but they've all sais they'll be right there with me. So I'm not overly worried. I'm actually pretty confident in our team. I work all season to be ready when I'm called upon and that's what has happened today.

And you're right into the thick of the action because Saturday is the derby…
These are the great moments in football. Moments that don't come along every day, moments that I normally experience from the subs' bench. This time I'm playing. It's a role I'm not really used to. I can't hide the fact that I feel sorry for Greg because this is the match he waits for every season, a really important match for him. I saw that last season during my first two first-hand experiences of the derby against Saint-Etienne. To play well against his former club really meant a lot to him.

What does the derby represent for you?
Everyone, my neighbours, my baker, everyone tells me that these are the two matches we simply cannot lose during the course of the season. So we'll be doing everything we can to make our fans happy. We all know what the Saint-Etienne golden era meant for French football, but it will be different on Saturday. We're are the favourites now and we have to live up to it.

Does playing Saint-Etienne motivate you even more?
Whether it's against a Ligue 1, Ligue 2 or third division team, I have so few opportunities that I'm always extremely motivated when my chance comes along. Perhaps there's even a little bit more because it will be big for everybody. In the future I'll play other big matches. It will let us see if this squad is really as deep in quality as everyone says we are. We have a few absentees and we'll see if the bench allows us to compete…

Is it frustrating to only play due to an injury to another player?
Yes, but goalkeepers don't really have much choice. Other than a red card or an injury, I don't see how else I can play. Especially at Lyon where Greg is an emblem of the team and the captain behind the scenes.

Is there a little fear in replacing Greg for matches as important as the derby, the Champions League game against Kiev or the league encounter with Marseille?
Yes, but I think that's normal. When you take his place, to do as well as him already meas having a great game. To do better would be incredible. It's not necessarily fear but more like apprehension.

Now it's going to be a derby match between two goalkeepers from the north, because Jérémy Janot comes from Valenciennes...
Absolutely. We were there at the same time for a while. I also know Geoffrey Dernis. It's funny to have two northerners at the heart of this derby, even if he is 100% Saint-Etienne…

What do you make of the Saint-Etienne attackers?
They have a great pair of strikers but also a very good team. The place in the league speaks for itself and they've been there since the start of the season, playing good football and getting results. It won't be easy and we'll have to be on our guard.