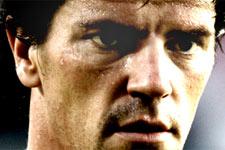 " Grégory Coupet has injured his index and middle fingers and will be out of action for at least ten days." After training on Thursday, the Olympique Lyonnais team doctor, Jean-Jacques Amprino discussed the 'keeper's injury.
"He has two gashes, which haven't affected the ligaments but he needed six stitches," he added. "He cannot handle a football until the wounds have totally healed."

Also suffering from with a bad shoulder after being injured in the match between Austria and Switzerland, Patrick Müller will be unavailable for at least three weeks. "He is suffering from a complete dislocation of the right shoulder. But the MRI Scan and the X-Ray showed no other damage," confirmed the OL doc.

Eric Abidal and Sidney Govou are both operational. The left-back is abailable again after suffering a dead leg against Scotland.
Sidney Govou's MRI Scan was also good news. The interior of the ankle membrane is bruised, but the joint is stable.