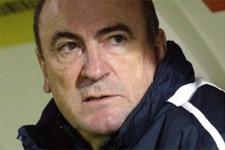 Assistant coach Patrice Bergues describes morning training and also discusses the current form of John Carew as well as the intensity that come with preparing derby matches…
How was training this morning?
The players played a little game to keep competitive rhythm. After the 11 v 11 that they played against Gueugnon last Friday, they played again to maitain their form and best prepare the derby. There's always a little difference between the professionals and the young players who sometimes let the enthusiasm get away from them… but on the whole, it went well.

How is John Carew? John has been working well for the last week. He appears to be back to his best physically, although he might lack a little match fitness. This little game will have done him good.

With Fred suspended, what will the OL attack look like on Saturday?
Each week, no matter what the situation there are always choices to make. The more choice there is the better. Fred's absence is obviously annoying for this match. But it gives the other players a chance to show what they can do… like John perhaps…

After the last international week, Lyon struggled at the Stade Gerland against Troyes.Do you expect a similar scenario this weekend?
We know it's not easy to refocus everyone in just one day, but that's what we have to do after each international break. The players are professional enough to knuckle down quickly. To come back to a derby is a good thing because the focus is already above that of a normal match.

Will you be watching Les Bleus tonight?
Yes, of course. And I'll be hoping for a win for Les Bleus, because we are above all fans of the French team. We also hope to only see one or two Lyon players. To see them play at this level is always interesting for us.