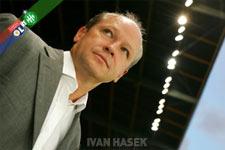 Les Verts are currently fourth with 14 points and are undefeated away from home. The trio of Piquionne-Ilan-Feindouno have scored 10 of the club's 12 goals…
Elie Baup didn't hang around at Saint-Etienne for another season and he was replaced by Ivan Hasek. The coach changed… and so did the squad: Zokora, Hellebuyck, Postiga, Mazure, Yahia and Mendy all left while Ilan, Hautcoeur, Dernis, Landrin, Bilos, Heinz, Diatta and Guarin arrived. In eight league matches Les Stéphanois have won four games: v Monaco 2-1, v Lens 3-2, v Nancy 1 -0 and PSG 1-0; they have lost twice at home (Sochaux 2-1 and Auxerre 3-2); and have recorded two draws away (v Sedan 2-2 and v Rennes 0-0). Saint-Etienne are undefeated on the road. 12 goals scored: 2 from outside the penalty box and 10 from within, 2 headers, 4 from crosses, 1 own goal, 2 penalties. Ilan 4 goals including 1 penalty (Auxerre), Piquionne 3 goals, Feindouno 3 goals including 1 penalty (Sedan), Dernis and 1 own goal (Lens). 7 scored in the first half and 5 after the break. Saint-Etienne haven't scored after the 73rd minute.
10 goals conceded: 2 from outside the penalty box, 8 from within, 2 headers, 2 penalties, 1 from a cross, 2 from corners, 1 own goal (Ilan v Lens). 3 goals conceded in the first half and 7 in the second, including 4 in the final 15 minutes. Saint-Etienne have scored in seven of their eight matches and each time they opened the scoring!

18 players have been used by Ivan Hasek: 8 have played in all 8 matches (Ilan, Feindouno, Piquionne, Dernis, Hognon, Ilunga, Janot, Sable) and three have played every minute of every match (Ilunga, Janot, Sable). 6 times out of 8, the starting line-up was identical.

19 yellow cards: Sable 3, Landrin 3, Camara 3, Ilan 2… Sable and Landrin will be suspended for the derby.

Les Verts qualified in the Coupe de la Ligue against Sète, 4-1 (Gomis 2, Bilos 2). Viviani, Bayal Sall, Piatti, Tiené and Sakho played in that match. In the last 16, Saint-Etienne host Marseille.