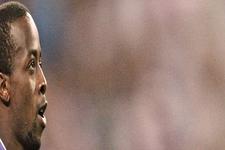 Sidney Govou talks about his knee and ankle injuries and also reveals his desire to play in Saturday's derby against Saint-Etienne. He also discusses Lamine Diatta and his favourite derby memories…
Can you give us an update on your health?
I've been running again since yesterday. I ran abit harder today and it seemed okay. I still feel a little pain, but I'll try and train normally as of tomorrow and hope that it will be alright by the end of the week.

So can we hope to see you on the field on Saturday?
That's what I'm working towards. If everything goes well, from tomorrow I'll be training just lmike normal with the rest of the squad.

We imagine that withdrawing from the derby would be a disappointment?
Absolutely! It really means a lot to me, a match I really want to play in. So of course I'll be disappointed if I can't play, especially due to an injury… even if that is all part of a footballer's life.

What do you think of this Saint-Etienne side?
They're playing well. They have two in-form strikers and they'll be tough to play against because they look pretty tough at the back. It's really a very special match in which everyone lifts their gameto another level. Yet despite all that, we're playing at home and we have what it takes to get the win.

Where do you think the game will be won and lost?
It's going to be a really tough game so we can't afford to make a slow start. From there, the team that wants it most will always win.

You'll also be up against one of your old teammates in Lamine Diatta, that will be a special moment…
Yes, because we had some good times with him. Before or after we can have a chat, but during the game, he's just another opponent.

What is your best derby memory?
Last season 3-2 win at Saint-Etienne. That was a great moment because I scored the third goal.