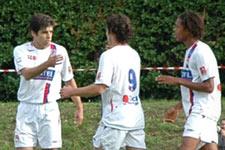 On training ground no.10 at the Plaine des Jeux de Gerland complex, OL defeated Gueugnon 2-0 in a friendly on Friday, in front of around 500 fans.
Gérard Houllier selected a starting XI that was a mixture of Ligue 1 experience and kids from the youth academy.
Lyon: Vercoutre, Benhamida, Paillot, Cris, Réveillère, Beynié, Plessis, Juninho, Ben Arfa, Rémy, Bettiol.

Lyon took the upper hand from the outset.Juninho drew a fine early save from the Gueugnon goalkeeper with a dangerous free-kick.
Grégory Bettiol was next on show as he went close on three separate occasions.
On the half-hour mark, Anthony Réveillère escaped down the right and cut the ball back into the path of Juninho who side-footed the ball home to open the scoring.
In the second half, the Brazilian was closing to doubling the mark but his free-kick crashed into the side-netting.

Benhamida, Juninho, Cris and Bettiol then made way for Faussurier, Chaffard, Brugniaud and Idangar.
Leading the OL attack, Loïc Rémy first headed wide of the mark and then hooked his shot wide after a good cross from a cut back from Hatem Ben Arfa.
It was a case of third-time lucky. Julien Faussurier kept the ball alive in stoppage time and then the Martinique-born Rémy added the team's second with a rasping low drive from just inside the area.

It was the perfect way for Gérard Houllier's players to bring the curtain down on a good week's training. As of Monday, they'll be back at Tola Vologe to prepare for next weekend's derby match against Saint-Etienne.