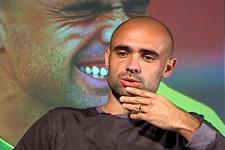 On Wednesday, Cris is in the hot seat to discuss the five selected photos in 'Freeze Frame'. And he says it all in French, if you don't mind!
[IMG41363#L]Djila
My friend Djila, a super guy and an excellent player. We played two seasons together, and then he was on the other side the last time we met. That's the life of a footballer.
I've spoken to him a lot since he left. Djila's happy to be there and has quickly adapted to Real Madrid, even if it's really different to life here. There are a lot of foreigners and each player pretty much keeps to themselves. It's hard for him to play there having been through the Lyon family. I also talk a lot about his life, what he's doing back in Mali and what I can do in Brazil. He really is a true friend.

[IMG41362#L]Milan
(Grins) Against Milan at the San Siro. That photo's taken just after we conceded the second goal. That goal really cost us dearly. It's the biggest disappointment from last season... for me, for the fans… for everyone. We really though we were going to get through the quarter-finals. Afterwards, it was really hard to forget about that match. It's even hard to look at that picture today… It's even tough to look at that picture today and think about that incredible goal that knocked us out.

[IMG41365#L]Defender
As a defender, I'm always looking to anticipate... always. And if that's not possible, then I have to tackle, but my game is based on anticipation.
It's my father and my brother that put me in that position. They sent me to play football. I asked them where I should play? Defender. What do I do? When the ball comes, you clear it! OK. And it still works today…

[IMG41361#L]The World Cup
It was my dream to go to the World Cup. Unfortunately for me, I didn't get to play, I stayed the whole time on the bench. But that didn't ruin my dream. I lived every moment to the full before returning to Brazil. I watched the rest of the tournament at home.

[IMG41364#L]Own Goal
When a defender scores an own goal… The whole world comes crashing down. It can happen… It's all part of the game and you can't lose your focus. You can't let it get the better of you. You have to put it out of your mind. Not dwell on it. You have to stay concentrated and do your job… and we won that game anyway.