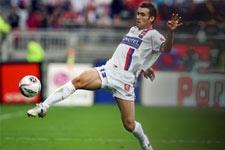 At the end of an historic month of September, Anthony Réveillère discusses Lyon's incredible start to the season. He also talks about the training schedule during an international week as well as the motivation that drives the Olympians towards a record sixth consecutive national crown…
The league is taking a back seat for two weeks, could that break Lyon's rhythm?
International breaks are often good to take a break and recuperate. But when you're already feeling good, we want to keep going at the same tempo. We won't be stopping the physical work but we also have fun with little muck around games, which is designed to get us through until the Christmas break. We're staying focused and looking after ourselves to avoid injury. Before this short break we 'got the job done' by beating Sochaux so that everyone can head off or stay here and keep working in a good frame of mind. When everyone's back from international duty on Thursday we'll jump straight back into the league and the derby against Saint-Etienne.

How have you seen the start of the season?
I think the record loçoks pretty positive, whether that's in the Ligue 1 or in the Champions League. We've won everything domestically except the one draw against Toulouse but we still only have a three point lead over Marseille, so it's lucky we have done as well as we have! In the Champions League, with two wins from two, we're also riding along nicely, but we're not taking anything for granted because the season is still very long. For the whole season there will be international weeks in which players head off and lose touch a bit with their club. For our part, we'll just keep on working. And when they come back we have to quickly get everyone pulling in the same direction again… Especially considering the first game back is the derby.

Olympique de Marseille seem to be the only team that keep pace with Lyon… Does that surprise you?
I don't think it's surprising at all. At the start of the season I picked OM amongst the favourites because they have made many changes to their squad, they've kept the same skeleton of players as last season. A bit like OL has been doing for a long time and they've found a little extra stability. Don't forget that they were playing well towards the end of last season already. So to see them just behind us in the standings doesn't surprise me at all. Now that they're out of the UEFA Cup, they only have to think about the league and the two domestic cup competitions. We have to be wary of them.

When you see the gap between you and Bordeaux, do you think it's going to be hard for them to come back?
We're not looking over our shoulder. We used to looking ahead. Everyone has their own problems to look after. For a while OM were in front, so we had them in our sites. Now they're behind us so were just focusing on staying on top for as long as possible… right until the end of the league. It's a long way off, but our strength lies in our ability to always respect our opponents and also just worry about the next match on the horizon, taking them one at a time.

Do you play to break records, like winning your opening five away games of the season?
We don't even talk about them amongst ourselves. We only want to win at home because we're playing in front of our fans. Away from home, we know that our opposition is under more obligation to come out and play and that suits us better because we can play our own game more. We try to win every game but we don't think about records. We're just a team of competitors that simply hates to lose and wants to win the three points every time we run out onto the pitch. We have declared our ambition to win a sixth title and we're as hungry as ever. The Ligue 1 is our bread and butter and we really are desperate to win it again.