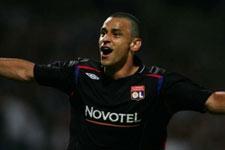 With three goals scored in just 215 minutes of playing time (one against Lorient and two against Lille), Fred won the Goal Scorer of the Month Award for September. He takes over the mantel from Lille's Peter Odemwingie.
This trophy, awarded by the LFP, the newspapers Le Parisien and Aujourd'hui en France and the television show Téléfoot rewards the best Ligue 1 scorer for every month.
Level with the two Lens strikers Dindane and Jussiê, Sedan's Noro and Bordeaux's Darcheville, all with three goals, Fred emerged victorious for having seen the least playing time. In fact, he boasts a scoring ration of one goal every 72 minutes! Even better, the Brazilian goal machine didn't get a single goal from the penalty spot.

Le Lyonnais is also sitting atop the general goal scorers' charts for the whole Ligue 1 season. Level on five goals with Dindane and Odemwingie, he is currently first due to his comparative lack of pitch time (one goal every 81 minutes for Fred, one goal every 111 minutes for Dindane and one goal every 130 minutes for Odemwingie). Fred has only shot 15 times at goal for his five goals or, one goal every three shots!!!

His exquisite lob over Casillas for the opener against Real Madrid and the first of Lyon's three goals against Steaua Bucharest can also be added to his domestic total of five.

His record for the season reads: seven goals in ten matches for a ratio of one goal every 80 minutes!!!

But Fred is not just a scorer. Very active in every department across the front of the Lyon attack, he also knows when to serve up his teammates as is attested to by his two assists, for Tiago's header against Lorient and his backheel for Juninho against Lille.

While hoping to see him as prolific as this for many months to come, Olympique Lyonnais would like to wish him a very happy birthday on this October 3, 2006.