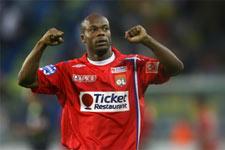 Sylvain Wiltord scored his second goal of the season against Sochaux... a second winner after his victorious strike against Bordeaux...
At the Stade Bonal, "Nino" scored his 27th goal in a Lyon shirt. His second of the season and his second decisive goal. And just as he had done against Bordeaux, he did after coming off the subs' bench. It was his third goal for OL coming off the bench... it was his third winner: victories over Bordeaux last season and this season and against Sochaux. Sylvain was also at the origin of the Sochaux goal because he was beside his own penalty area when he passed the ball to Cris at the start of the move.

Wiltord's goal against Sochaux was the seventh scored by a replacement: Fred at Nantes, Malouda against Toulouse, Wiltord at Bordeaux, Benzema x2 at Nice and Benzema again in Bucharest. 7 super-sub goals out of 26.

Juninho was involved in all three goals in Bucharest: free-kick palmed out to Fred; corner for Fred's header and backheel for Benzema. Against Sochaux, he was involved in the four most dangerous Lyon attacks: he launched the diagonal ball which was headed into the path of Wiltord by Tosic for the goal; he volleyed at Richert from Wiltord's cross; he hit the corner that a Sochaux defender turned against his own post and he drew a fine save from Richert with a free-kick.

The score was 0-0 at half-time on Saturday. It was the third time this season that there has been no score at the break: OL - PSG in the Trophée des Champions and OL - TFC in the league. It was the fourth time that OL failoed to score in the opening 45 minutes: along with Nice who were leading 1-0 at half-time.

Against Sochaux, Jérémy Toulalan failed to make anyappearance. It is the first time this season that the former Nantes midfielder has not played a single minute of a league match.

Against Sochaux, Les Lyonnais dominated possession. It was the tenth time out of 11 matches this season: only Madrid have out-passed Coupet and Co.

134 shots at goal in the league for 20 goals! Or just under seven shots for each goal; 50 shots on target for those 20 goals.

Finally, OL is not only on top of the L1 standings, but also the Challenge de l'offensive... and also the Fair Play table.