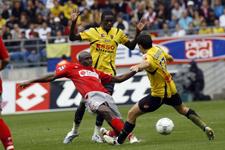 Check out all the reactions to OL's 1-à win over Sochaux...
Jean-Michel Aulas: I'm satisfied with the result that we've earned in impossible conditions. In the first half, we could have conceded a goal without having anything to say against our players. In the second half, we saw the real Olympique Lyonnais. This is a great win. A lot of teams will come and lose here.
At one point during the match I was getting worried because we were losing a lot of 50-50 balls. At half-time, Gérard Houllier made all the right moves and the result went our way thanks to that wining goal from Sylvain Wiltord. Tonight we didn't really dominate, so we did have a bit of luck with the result, but the important thing is that we stay at the top.
The black points are the injury to Sidney (Govou) and Fred's yellow card. As for Fred's booking, he said it wasn't fair because he didn't say anything. His suspension is a blow, even if we do have two quality players capable of replacing him. Perhaps it is a good thing in disguise because we have a lot games coming up and we'll need to rotate the squad.

Patrick Müller: Tonight was a real battle. It was really tough to play out own game. In the second half we were able to capitalise on their errors with that goal from Nino (Sylvain Wiltord). We fought hard, and that saw us get the win. They are a great three points. It really was a great win.

Jérémy Berthod: We knew it was going to be a big game. And the weather really forced us to get down and dirty. Tonight, we showed our real fighting qualities. We're exhausted, but also delighted.

Grégory Coupet: It's true that I had to make one really crucial save. It's good because I was able to pull out the save right when it was needed. Tonight it was tough. We had less energy and the weather didn't make it any easier. In the first half we really had to knuckle down. For a goalkeeper, to play in those conditions is really tough because the bal lis like a bar of soap and the footing is slippery as well.
Now we've got seven wins from eight games and more than the wins, it's been the way in which we've been playing which has been great.

Cris: I really love this type of match where there are lots of high balls. We have to accept that we can't always play incredible football. Tonight was a really important win and 1-0 is fine with us.

Alou Diarra: It wasn't an easy game because Sochaux were motivated and very dangerous. In driving rain we got the basics done, that is: three points. We're satisfied with the result. The main thing was to keep top spot in the standings and from a personal point of view, it really wasn't easy. I really had to dig deep because it was my first full 90 minutes this season.