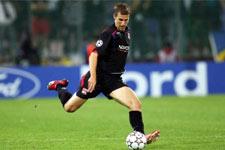 Despite being suspended for Lyon's trip to Sochaux, François Clerc stopped by to discuss training, the trip East and the need to constantly look for more in order to stay at the top...
How was training this morning?
Really good, even if Jérémy (Berthod) and I did lose to Greg (Coupet) and Rémy (Vercoutre) at foot-tennis. The morning session let us work out while still recovering from the match. Now we're in between two games : 48 hours after the match in Bucharest and 48 hours before the one against Sochaux. As a result we mustn't force it too much and that's why we had a light session.

Are you already back in league mode?
We came down yesterday. Today we're all focused on the next, important game against Sochaux. We really want the three points from Sochaux so that we can go into the international break in form.

Last year you beat Sochaux 4-0. What do you think about the 2006-07 side?
Last year they had a pretty tough season at the end of which they finally stayed in Ligue 1. This year, the team has changed and they've recruited some good players. They also made a good start to the campaign. It certainly going to be tougher than it was last year.

When you get applauded like you did by the opposition fans in Bucharest, what do you think?
It's really nice to get such an ovation overseas. It's just more proof, if we needed it, that we played a great game.

You are suspended against Sochaux. How does that make you feel?
I feel fine. Since I can't play in the match, I'll just settle back and watch it on television.