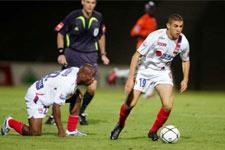 The day after their victory away to Steaua Bucharest, Karim Benzema discussed the team's performance and also this Saturday's match against Sochaux...
How did you see the match in Bucharest?
It was great to win such a big match and at the end of the match the public had recognised a good team and applauded us. We warned about a potentially hostile welcome in a little stadium with lots of supporters but we started the game on the right foot and managed to score just before half-time. In the second period we continued to take the game to them which allowed us to score a second and then a third goal.

Can you tell us about that third goal?
I scored after a great pass from Juninho. He fed me a through-ball and I looked up and saw Malouda so I tried to hit it hard into the far corner… and it went in. I scored a nice goal, but the main satisfaction is that the team registered another win.

Can you give us a word about this weekend's rivals Sochaux?
Last season we played really well over there and won 4-0. That day we had a really good first half and that match is still a very good memory. I hope that this match goes the same way with plenty of desire. They're a good team that have been strengthened this season, especially with the arrivals of Leroy and Ziani. I know the latter very well and he's a top class player.